Transforming beds: 7 main advantages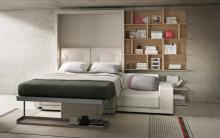 The bed takes up most of the bedroom, especially when it comes to a double bed. And in the event that there is a shortage of square meters in the room, then you have to look for a way to save precious space. How can you do this without sacrificing convenience and beauty? Very simple thanks to the advances in the furniture industry. Convertible beds provide you with a comfortable sleeping place and help save space.
Convertible beds are a novelty in the furniture industry. But from the very beginning of their appearance on the market, they quickly gained popularity and great demand among modern consumers.
The leading position in the production of such furniture is taken by Smart Mebel. We produce truly "smart furniture" that fully meets the requirements of modernity in terms of convenience and beauty. We are constantly analyzing the market, studying the interests of consumers, the demand for various groups of goods, we follow new trends in the furniture industry. 
We bring to your attention the advantages of transforming beds, which will help you make a choice in their favor:
•  Convertible beds save space  - perhaps this is the most important advantage. By folding such a bed, you free up precious meters of your living space. You don't have to resort to tricks with mirrors, lighting and wall colors. The space is freed up in one light movement.
•  Saving time  on making the bed  - bed linen is fastened to the bed with special belts and with a light movement hides the bed in the closet.
• With the help of a transforming bed, you can improve the interior . By day, the furniture looks like a stylish modern wardrobe. No huge bed that takes up half the room! And hardly anyone can guess that the closet hides a full-fledged sleeping place.
•  Cleaning becomes much easier and more enjoyable  - you don't have to crawl with a rag dusting under the bed.
•  In the closet, you can compactly place all your belongings.  After all, this piece of furniture is completed with various additional modules and shelves, or cabinets. Their number and location depends solely on your preferences.
•  Convertible beds are very easy to use.  It is very easy to raise and lower such a bed. Even a child can handle this!
• A  real orthopedic mattress can be matched to the lifting bed.  And this is a guarantee of healthy sleep and well-being!
You can order transforming beds by contacting Smart Mebel. For many years we have been professionally engaged in the manufacture of cabinet furniture of any complexity. We carry out orders in any volume, taking into account all the wishes of customers.