Convertible furniture is becoming more popular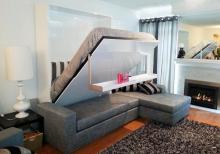 Over the past couple of years, transforming furniture has certainly become popular among residents of small -sized apartments. And all because the main advantage of this furniture is its compactness and the ability to combine several interior items , functions, tasks and much more in one. We are confident that transformable furniture will gain even more popularity in the coming years . In the meantime, there are pluses for those who are already familiar with this furniture , because it looks modern, interesting, beautiful in the interior. There are so many variations of this furniture and that is what this article will be about . 
Our most popular product is a wardrobe-bed or its more modern variation a wardrobe-bed-sofa . We present a wide variation of this type of transformable furniture . You can install a wardrobe bed that helps to save space and not place a bed that will take up a lot of space in the room , and using the transformer during the day you get a lot of space for free movement . We also offer a wardrobe-bed-sofa, and the price of this product depends on the comfort of use , such as SOUL and ALADINO do not need to disassemble the sofa, in these models the sofa simply hides under the bed .There are also different variations of the legs on which the bed stands , it can be self-reclining, or it can work on an amartizer, or those that can be pulled out manually. There are two types of wardrobe-beds, yes it is it, it is vertical and horizontal. And in fact, and in that the arrangement of the mattress in relation to the floor , the following dimensions are possible: width-90 cm, 120 cm, 140 cm, 160 cm, 180 cm; length: 190 cm, 200cm.
A table-bed is an ideal solution for a child 's room, since one of the most important furnishings in, after a bed, is a desk. There are different types, some allow you not to remove the contents, which makes this model even more convenient to. We also decided that one of the most-bed, or it can be made without a table. An interesting solution was to use pull-out sturdy drawers as a ladder, but a standard portable ladder is also possible. 
The next product, or rather the category of goods that we want to tell you about , is a transforming table , they are of different types: a dining table that turns into a coffee table , as well as a rack that, with a slight movement of the hand, becomes a standard dining table, a pedestal table and many others. They exist in different forms, some allow you to adjust the length when unfolded , height. In any case, you will find something to your taste. 
We are also ready to offer you such interesting products: mirror-ironer, transforming pouf, ladder chair and much more.
We can make this entire assortment to order, which gives you the opportunity to choose the color, size, configuration, design, materials, which will allow the furniture to perfectly fit into your interior.