Saving space with a wardrobe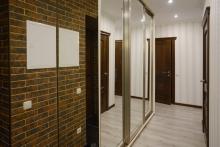 A modern, beautiful wardrobe is designed to be roomy enough and able to keep all the things in your home in order. Its appearance should decorate the interior of the apartment, and the inner filling of the wardrobe should ensure ease of use and practicality, while maintaining free space in the room.

The internal content of the wardrobe depends on where you plan to put it, what things you will store in it. In the hallway, for example, you can put a vacuum cleaner, ironing board, skis, shoes in the closet, and store toys in the nursery. Small toilet items are placed in drawers, and in the side of the shelf for towels and linen. Any component of the internal filling of the wardrobe must be in place, efficiently perform all the assigned functions, and provide easy access to things.

The company "Smart Mebel" offers you a huge selection of various equipment and accessories for wardrobes - all kinds of pull-out devices, holders, pantographs, hangers for clothes, ties, shoe shelves, mesh laundry baskets, stands and, of course, built-in lighting.

We will arrange everything the way you want, the wardrobe will become comfortable, modern and functional.

The mesh elements are made of metal wire with an excellent and durable polymer-powder coating, unlike conventional wood shelves, fiberboard and chipboard. Mesh elements are easy to rearrange, easy to wash, they are durable, do not sag under the weight.

There is no need to overload the internal filling of the wardrobe with a huge exorbitant number of shelves, but to make as many as you need for comfortable storage of things and objects. For example, on the shelves in the upper part of the wardrobe are things that are rarely used, for example, a suitcase, items of daily use are closer. Shirts, jackets, raincoats or coats can be hung on trumpet consoles and hanger bars. And at the bottom of the cabinet it is convenient to place shoes.

The depth of the wardrobe is not so limited and allows you to put much more things in it than in a standard wardrobe and take up all the space to the ceiling. You can, at your discretion, create the interior space of the wardrobe and make perfect order, conveniently arranging things in it.

The company " SV-mebli»Will always support you in the design of the wardrobe, its interior filling and design development, so that you can quickly and easily find the necessary thing, objects. We will make a wardrobe for you according to your desire and functional purpose, without restrictions on the internal filling of the wardrobe, of any size and design, materials, colors and accessories.