What is a transforming bed and "what is it eaten with"?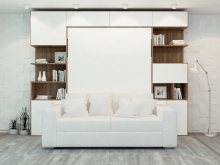 Coming home after work, everyone wants to rest and gain strength. A person spends a third of his life in a dream. During sleep, the body recovers its strength. And on what a person sleeps on, his healthy and high-quality sleep depends. A well-chosen, comfortable bed is the key to a good sleep.
Currently, the market offers a large assortment of stationary beds and sofas, different in quality and price. For a long time, folding sofas were popular. But doctors recommend sleeping on orthopedic mattresses that prevent curvature of the spine. Regular beds and sofas take up a lot of space, and small bedrooms have little space. All of this makes people look for alternatives.
The Smart Mebel  company  offers to buy in Kiev a lifting bed specially designed for you, with a high-quality transformation mechanism, which will significantly save space in the bedroom, which is a big plus for owners of small-sized apartments.
Wardrobe bed - is both a wardrobe and a bed, that is, it functions as a wardrobe, as well as a stationary bed.
When assembled, the lifting bed turns into a wardrobe where bedding will be stored. And you will use free space during the day. A small room with the function of a living room, maybe a bedroom. And in a small children's room you can put a lifting bed, and there will also be free space for children's games. In the evening, with a minimum effort, with a slight movement of the hand, the wardrobe-bed, thanks to the folding mechanism, turns into a full-fledged bed with an orthopedic mattress.
And so that the lifting bed fits into your interior, you can buy it with a variety of finishes, any color and from any material you like.

Ease of use and space saving are not the only advantages of the lift bed miracle. The indisputable advantage of the wardrobe bed is the fact that you do not need to clean the bedding every morning, you will use special belts that hold the blanket and pillows, just closed and you already have a wardrobe.
The conversion of the roll-up bed is easy, simple and very reliable and completely safe.

The lifting bed will be a pleasant, valuable and useful purchase for you, it will last a long time, and you will not regret the money invested in it.