Lighting for furniture in your home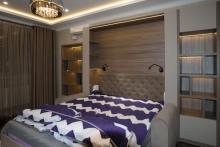 For the house to bring you joy, comfort and coziness, you need to work hard on the design and layout. Lighting of your interior plays an important role in this. After all, everyone knows the feeling when new furniture seems to start to annoy and you want to replace the decor of the apartment. Are you not satisfied with the color of the cabinets or the poor lighting of the rooms and the kitchen work surface? Don't rush to order new furniture. LED furniture lighting   can solve all problems.

Furniture lighting will give an exclusive look to the wardrobe. Small bulbs are installed in any convenient place in the cabinet, for example, in the top bar of a wardrobe. The interior of the cabinet can also be illuminated. Thus, you get an additional light source!

Lighting for furniture is presented in the form of lamps. They can be point or extended, located in the vertical and horizontal plane. For this purpose, halogen lamps from different manufacturers are used. But when you buy a cabinet with halogen backlighting, you must comply with fire safety standards, since the bulb temperature can reach 500 ° C. Halogen lamps must be turned on through a voltage stabilizer, since they do not tolerate a decrease and increase in voltage in the network. Their service life is reduced under constant loads.

Great alternative to halogen lamps - LED backlight... It is fireproof, does not require high voltage, is compact in size, does not generate heat and has a bright glow. The most important advantage of LED backlighting is its cost effectiveness. Bright light and low power consumption are every person's dream. LED lighting makes your home more beautiful and romantic. With the help of LED sources to create a design solution, you can illuminate any furniture in apartments, houses or restaurants.

Used LED strips and lamps to illuminate furniture. LED lighting is perfect for furniture design. Without lighting, many people no longer imagine wardrobes and wardrobes. Shelves and bookcases illuminated in different colors beckon with a mysterious light.

With the help of LED strips, you can decorate any contour of furniture, giving the necessary shape, because thanks to its size and flexibility, it can be easily installed on any part of the furniture you like. The fastening of the LED strip is provided by a self-adhesive base. LED strip is made of high quality materials, therefore, during installation or dismantling, the furniture is not damaged. It can be easily transferred if desired, fixing it to any surface you like.

With LED strip, you can illuminate a wardrobe, kitchen furniture and even small decorative elements and any other items of your interior. When illuminating glass furniture, the light coming from a glass cabinet or table will transform the entire light spectrum of the room. With a pleasant glow close to natural light, LED lamps and strips create a comfortable atmosphere in your apartment. You can easily control the brightness of the light and change the color at will.

With the help of LED lighting for furniture, you can change your apartment, without drastic interventions, give ordinary objects a modern, romantic and unusual look. LED strips allow you to outline the contours of some objects of furniture, paintings or panels. The LEDs are compact, allowing you to illuminate even small details. Modern LED backlighting has reliability and durability, absence of harmful radiation, it requires low voltage. The latest generation LEDs will provide the desired brightness for 7-8 years of continuous service. LED furniture lighting is resistant to constant switching on and off. Point, softly scattered light, without flickering does not irritate the eyes, creates a cozy home atmosphere, will give your home a unique character.

LED lighting is also very popular for the kitchen. Without a doubt, the kitchen is the soul of any apartment. It is pleasant to spend time with loved ones in this cozy room. LED lighting for the kitchen will create you even more comfort and coziness. Illumination of the working surface of the table in the kitchen while cooking will allow you to save electricity, since you will not need to light the entire kitchen. LED lighting for kitchen furniture allows you to easily find various items in the dark corners of cabinets. The LED strip in the kitchen can be positioned to illuminate the ceiling and floor.

LED lighting for furniture is a good helper for home and apartment owners. An individually selected color scheme can set you up for a business-like working mood and a dynamic rhythm, and can help you relax and unwind after a working day. Even a seemingly ordinary room will change when you turn on LED lighting for furniture. With the help of lighting, you can update your house or apartment, get positive emotions that arise with the illuminated furniture. You can add a romantic, intimate feel to your bedroom by installing LED strip lighting on your furniture.

The SV-mebli company invites you to buy in Kiev a variety of  LED strips and lamps for furniture , which we have in a large assortment.