Children's furniture-transformer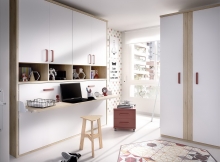 Currently, there are many ways to survive in today's small living space. Of course, you will have to try to make the furniture fit all, but, in fact, we have long ago come up with a solution to this problem. In our catalog you will find children's furniture transformer for a children's room. If you, like many other residents of Moscow, have a small apartment, then you definitely need such children's furniture for a small room.
Range
Our online store works with the best projects for children's rooms. Therefore, you can quickly find in it not only a transforming bed, but also tables for small children, a set of furniture, which includes:
- a comfortable bed that is suitable for children of all ages

- a comfortable table for work, creative pursuits, doing homework

- wardrobes (it is possible to make sliding wardrobes for maximum space saving)

- racks where the child can put their favorite books, magazines or just sets for creativity.
The good thing about transforming furniture is that it can be used in almost any room. It saves space, looks great and at the same time is a modern and fashionable solution to the problems faced by residents of our country and Moscow, in particular.
Where to buy custom-made transformable furniture?
We are for an individual approach to each client. In the catalog presented on the official website of the product you will not find boring and monotonous projects that you have seen many times when visiting your friends and colleagues. We are for cool, reliable children's bedrooms! In addition, each client receives:
- quick response of technical support and sales managers

- a guarantee for absolutely any furniture

- individual projects according to your size, desires, dreams, ideas!

- detailed catalog, only real photos, exact specifications;

- understanding professional measurers and assemblers

- feedback from real customers, which we constantly collect for self-improvement and improvement of our activities
We find our own individual approach to each project. We understand that customers are different, with their own tastes, desires, capabilities. Therefore, in our catalog you will find more than a dozen different projects of children's furniture. After choosing, we will definitely contact you to continue placing your order already in the office. We work honestly and offer our clients current prices, sometimes delighting them with maximum, and sometimes total discounts. Choose furniture-transformer for the nursery right now!