What is a dressing room?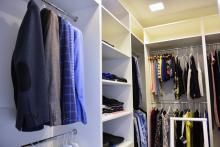 A walk -in closet is a separate room or part of a room in which, in an orderly system, there are shelves, baskets, drawers, hangers and other items for the convenient location of shoes, clothes, bedding, linen and other personal items, up to household appliances. This is a multifunctional storage room.

Many people believe that dressing rooms can only be located in large apartments in a separate room. This is, of course, an ideal solution if there is enough space in an apartment or house. But if you think carefully, you can find a place for a dressing room in a small apartment or house.

The dressing room is a storage system, therefore it is necessary to use all its space inside, take into account the convenience of using this room, this needs to be thought about when designing.  Walk-in closet- allows you to save the bedroom, living room, nursery from bulky wardrobes with clothes and shoes. If your apartment has several rooms of a small area, and you have a desire to rationally use the space, then a dressing room designed in a modern design will allow you not to buy large wardrobes, and there will be a lot of free space in the room. The location of the filling inside, which is U-shaped, parallel and angular, also depends on the area of ​​the dressing room. The main goal is to maximize the use of space from ceiling to floor. It would be good for a dressing room if its width is at least 3 meters, depth is 1.5 meters or more, in this case there is enough space for moving inside and for things. In it, you can freely slide out the drawer to get the thing you need.

Dressing rooms are not always spacious, so using light colors and mirrors, the room can be visually expanded. Mirrors are best placed opposite each other. It is very convenient, you can see yourself from all sides. Even if there are windows in the dressing room, it is still better to use artificial lighting. The brighter the room, the easier and faster it is to bring yourself to a perfect state. It is easier for women to do makeup if there is a bright light in the dressing room. High-quality lighting is a must for your dressing room. To make it easier to look for clothes, you can equip cabinets with special lighting. You can also hang several curtains so that your family does not embarrass each other when changing clothes.

If you allocate a separate room for a dressing room, it is better if it has a separate entrance from the corridor. A separate dressing room allows you to free your apartment from mezzanines, dressers, closets for storing clothes, and you get free space. We often spoil things because we cannot create proper conditions for them so that they do not crumple, do not get dusty, so that they can be easily reached, we do not provide them with ventilation. If the dressing room is equipped with open shelves, laundry baskets, shelving, tie brackets, trouser holders, then you need to install doors that do not allow dust to pass through. It is better to keep small things in compact dressers so that it is easy to find what you need.

If you do not have the opportunity to allocate a separate room, then you can separate part of the area with sliding, swing, folding doors from wall to wall, as an option, you can do without doors at all. An interesting idea would be to create triangular dressing rooms, separating the corner with a partition, filling it with racks, hangers, shelves inside. You can also arrange a dressing room in a niche by installing swing doors. Or, in the hallway, make a dressing room for storing outerwear and shoes, and in the bedroom - for storing personal items and linen.

To dressing roomsfurniture is made of laminated chipboard, hinged systems, metal shelves. With the help of a combination of these materials, dressing rooms are created for your every taste. When designing wardrobes, a mesh system is also used. With it, the elements are hung on a metal rail attached to the wall. All lower drawers are hinged, easier to clean in the room, and the shelves are stable.

When designing a dressing room, you need to find a place for a vacuum cleaner, a bicycle, a sled, an ironing board. It is better to hang things on a bar so that it is easy to find the necessary thing. Shelves can be either pull-out or stationary. With the help of pull-out shelves, it is easier to find things. It is also good to highlight special shoe shelves. Baskets of different types and sizes are also used, they are pulled out and ventilated. They use baskets for underwear and socks.

Smartmebel has been making wardrobe rooms for many years, built-in, fixed and easily portable. In the manufacture of wardrobes, a wide range of component materials are used. For the facade of the dressing rooms, we offer sandblasted and painted glass, mirrors, photo printing and rattan.

Dressing roomsare made by highly qualified specialists using ecological materials and accessories.

You can order and buy a dressing room in Kiev at our office or on our website.

We present to you several wardrobe projects that you can order, according to the sizes of the proposed wardrobe presented by you. Our experts will develop a project that is beneficial for you, will take into account all your additions and changes.